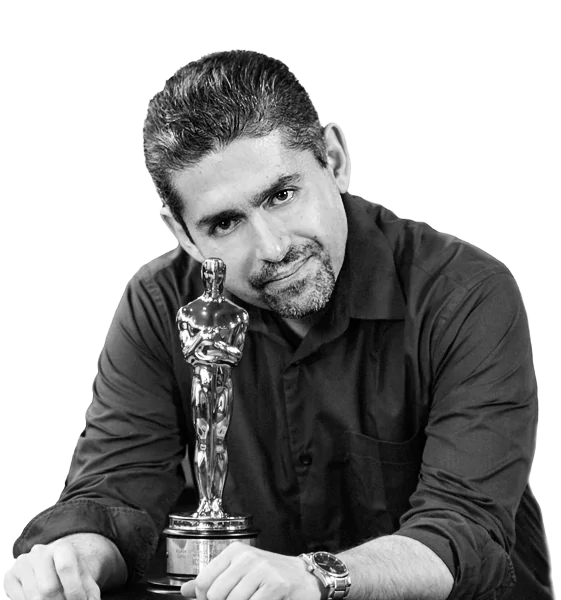 Compositing & VFX Sup. at GHOST VFX
GIANLUCA'S FEATURED PROJECTS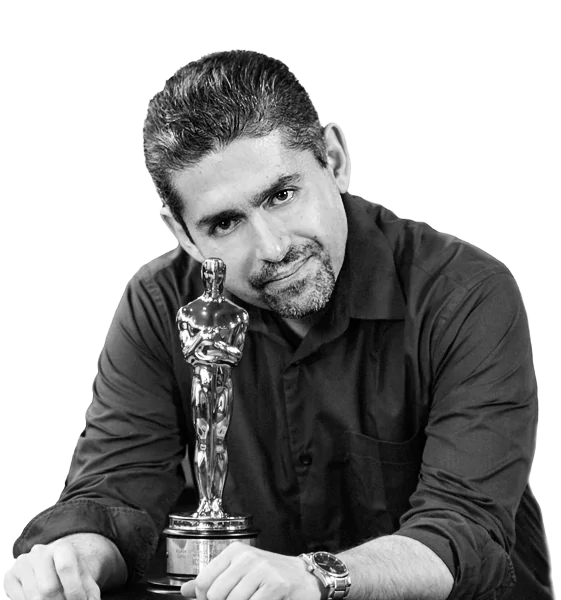 Compositing & VFX Sup. at GHOST VFX
GIANLUCA'S FEATURED PROJECTS
Gianluca Dentici, Vfx Supervisor and Compositor has a strong expertise on film-making processes and Visual effects gained during his 20 years-long career on film and TV productions.
Over the course of his working experience he had the opportunity to work on big visual effects productions by the most important vfx companies, among them MPC, DNEG, Framestore, ETC, Automatik, Peerless, DUPE VFX, NEXUS and Lola Post.

Thanks to a deep knowledge on visual effects and special shooting techniques he provides a valuable support to productions and visual effects companies by planning on-stage needs, supervising the shootings and the entire vfx process. He works closely with directors, DOPs, visual effects producers during the pre-production stage by addressing technical analysis and turnovers, visual concepts and shooting techniques proposals.
On the post production side he works as compositing supervisor or overall VFX Supervisor.
Gianluca Dentici is also certified by Mark Roberts Motion Control Camera Ltd., the prestigious company that manifactures the best motion control equipments.
Thanks to many collaborations with  training  institutions, academies and universities he is also very proactive on research and  development for computer graphics techniques, aiming to the improvement of the industry creative tools and to make the post production processes even more performing and efficient.
He holds master classes on compositing and CG techniques by many Fine Arts academies world-wide or VFX schools. Having gained a strong knowledge of Python programming for Compositing he is also able to create compositing tools for artists and set up pipelines for complex shows.

Gianluca was part of the Academy Award winning compositing team at MPC for Disney's Jungle Book who also won the VES award and the BAFTA award for the best visual effects and he was at Framestore when the comp team won the VES award for Marvel's 'Avengers: Infinity War'.

He is a member of The Visual Effects Society (VES) and the Italian Academy of Motion Pictures Film for which he was nominate three times in the best visual effects category as VFX Supervisor.
| | |
| --- | --- |
| | ACADEMY AWARD with MPC and WETA CREWS for DISNEY "JUNGLE BOOK" |
VES AWARD with the FRAMESTORE CREW for Outstanding VFX in a Photoreal Feature for "AVENGERS: INFINITY WAR"

VES AWARD with the MPC CREW for Outstanding VFX In a Photoreal Feature For "JUNGLE BOOK"
| | |
| --- | --- |
| | BAFTA AWARD with the MPC CREW for BEST VFX for "JUNGLE BOOK" |
| | |
| --- | --- |
| | Three time DONATELLO nominee as VFX SUPERVISOR for "CHRISTINE, CRISTINA", "VIVA LA LIBERTÀ", and "LA BUCA" |
Sex Education (TV Series) (lead compositor – 8 episodes)
Doctor Sleep (senior compositor: Peerless VFX)
Angel Has Fallen (senior compositor: Peerless VFX)
The Lion King (senior compositor: key artist – MPC)
Black Mirror (TV Series) (senior compositor – 1 episode) (senior compositor: Dneg)
Curfew (TV Series) (senior compositor – 1 episode) (senior compositor: Automatik VFX – London)
Mowgli: Legend of the Jungle (digital compositor: FRAMESTORE)
Fantastic Beasts: The Crimes of Grindelwald (digital compositor: FRAMESTORE)
Avengers: Infinity War (digital compositor: FRAMESTORE)
Krypton (TV Series) (digital compositor – 1 episode) (digital compositor: Dneg)
Mute (digital artist: The Senate VFX) / (senior compositor: The Senate VFX)
Altered Carbon (TV Series) (digital compositor – 3 episodes) (digital compositor: Dneg)
Kingsman: The Golden Circle (senior compositor: The Senate Visual Effects)
Dunkirk (digital compositor: Dneg)
Wonder Woman (digital compositor: Dneg)
Pirates of the Caribbean: Dead Men Tell No Tales (digital compositor: MPC)
Assassin's Creed (digital compositor: Dneg)
Fantastic Beasts and Where to Find Them (digital compositor: double negative)
Inferno (digital compositor: Dneg VFX)
The Jungle Book (digital compositor: MPC)
Terminator Genisys (digital compositor: MPC)
The Legendary Giulia and Other Miracles (visual effects supervisor)
2 A.M (Short) (senior compositor: GREEN BEE VFX)
Per amore del mio popolo (TV Series) (visual effects supervisor – 3 episodes) (visual effects supervisor: RESET VFX)
Exodus: Gods and Kings (senior compositor: MPC)
Three Touches (visual effects supervisor)
Happily Mixed Up (visual effects supervisor: Reset VFX)
La buca (3d artist: set extensions) / (lead compositor) / (visual effects supervisor: Reset VFX)
Sophie's Fortune (Short) (visual effects artist: Reset VFX)
Pane e burlesque (lead compositor) / (visual effects supervisor: Reset VFX)
Non è mai troppo tardi (TV Movie) (visual effects supervisor)
Amore oggi (visual effects supervisor)
Un matrimonio (TV Mini Series) (visual effects – 6 episodes)
La madonna del parto (TV Movie) (digital compositor)
Stay Away from Me (digital compositor: RESET VFX) / (visual effects supervisor: RESET VFX)
Sole a catinelle (digital compositor)
Altri tempi (TV Movie) (visual effects supervisor: RESET VFX)
Cha cha cha (visual effects supervisor: Reset VFX)
Volare – La grande storia di Domenico Modugno (TV Movie) (visual effects supervisor: Reset VFX)
Long Live Freedom (visual effects supervisor: Reset VFX)
Miriam (Short) (digital effects: Reset VFX)
Day of the Siege (visual effects supervisor: Reset VFX)
The Family (TV Series) (visual effects supervisor – 6 episodes)
Il sogno del maratoneta (TV Movie) (visual effects artist)
La certosa di Parma (TV Movie) (visual effects supervisor: Reset VFX)
Violetta (TV Movie) (visual effects supervisor)
Edda Ciano e il comunista (TV Movie) (visual effects supervisor: Reset VFX)
The Swing Girls (TV Movie) (visual effects supervisor)
Alta infedeltà (visual effects supervisor)
Christine Cristina (visual effects supervisor)
The Red Shadows (visual effects supervisor)
Il soffio dell'anima (visual effects supervisor)
Detective De Luca (TV Mini Series) (visual effects supervisor – 4 episodes)
La velocità della luce (visual effects supervisor)
Caccia segreta (TV Movie) (visual effects supervisor)
Il lupo (visual effects supervisor)
E poi c'è Filippo (TV Mini Series) (visual effects supervisor – 7 episodes)
Giovanni Falcone, l'uomo che sfidò Cosa Nostra (TV Movie) (visual effects supervisor)
The Wedding Director (visual effects supervisor)
The Goodbye Kiss (visual effects supervisor)
Gente di mare (TV Series) (visual effects supervisor – 26 episodes)
Angela (TV Movie) (visual effects supervisor)
Viva Zapatero! (Documentary) (visual effects supervisor)
The Fine Art of Love: Mine Ha-Ha (visual effects supervisor)
The Silence of the Skylark (visual effects supervisor)
E ridendo l'uccise (visual effects supervisor)
Il capitano (TV Series) (visual effects supervisor – 6 episodes)
A Judge of Honor (TV Movie) (visual effects supervisor)
Pontormo (visual effects artist)
A Children's Story (visual effects supervisor)
I ragazzi della via Pál (TV Movie) (visual effects supervisor)
Distretto di polizia (TV Series) (visual effects supervisor – 26 episodes)
Sulla mia pelle (visual effects supervisor)
Marcinelle (TV Movie) (visual effects supervisor)
Il compagno americano (visual effects) / (visual effects supervisor)
Francesco (TV Movie) (visual effects supervisor)
My Mother's Smile (visual effects artist – as Gianluca Dentici)
WE H
A

VE THE B

A

CKGROUND

A

ND THE VISION TO SUCCEED